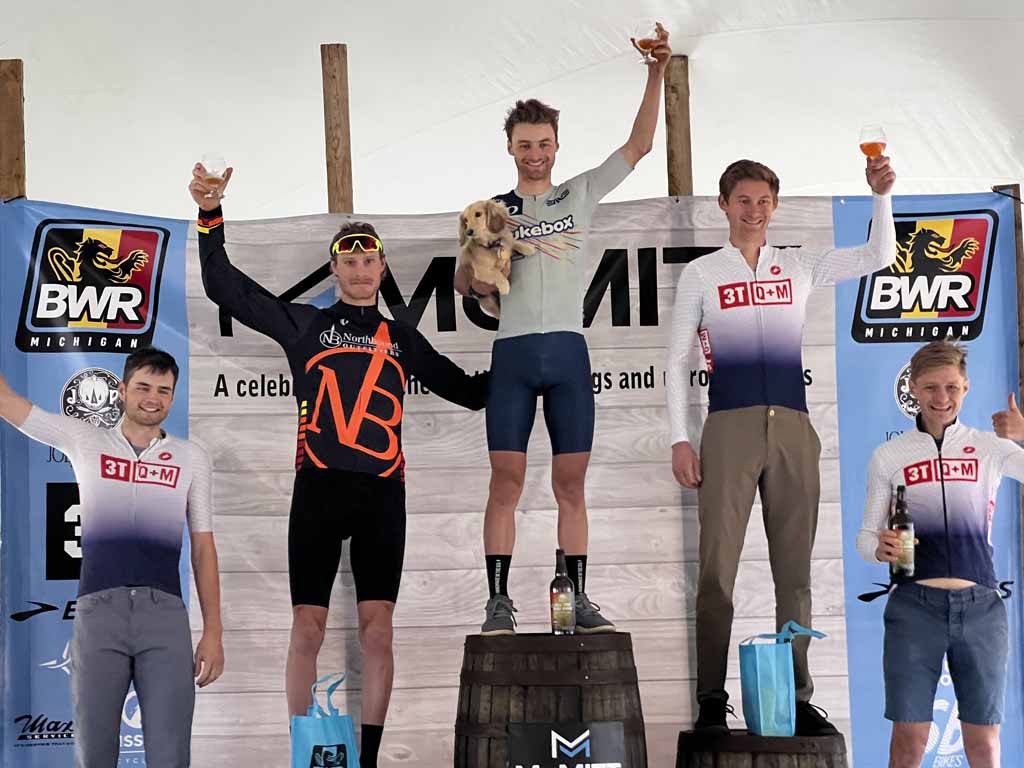 Lars Hallstrom says team effort pays off for multiple podium finishes at the Belgian Waffle Ride
The inaugural Belgian Waffle Ride Michigan was a blast, with peak fall colors and perfect weather on race day. We were fortunate for a couple of days leading up to race weekend, which left us with ideal conditions. The rain tamped down some of the sand and turned what could have been a very long day into just a few decisive sandy sections. On race day, I was confident that a long-range attack wouldn't stick. My goal was to stay with the front group without chasing attacks or burning any unnecessary matches. I did have a couple of mistakes in the sand, and a dropped chain forced me to make some longer chase efforts in the first three hours.
The First Big Shake-Up
Around mile 60, after the longest running section of the day, the group had whittled down to six riders: Alexey Vermeulen, Dylan Johnson, Jorden Wakeley, my teammates Connor Kamm and Garrett Jenema, and myself. Alexey wanted to make it hard and would attack most of the paved climbs. At the same time, I was feeling good and focused on not being the first person to chase each attack.
A Key Separation
We worked together well until about mile 90 when Alexey attacked a climb hard. This was the first time any gap had opened to Dylan or Jordan. Dylan, with his massive mountain bike tire set-up, had a clear advantage on the singletrack sections. Additionally, Jordan is an absolute motor with local knowledge who would be dangerous to take into the final singletrack section, so I knew I had to close the gap without them with me. As we crested the climb, I was able to bridge the gap to Alexey with Connor and Garrett on my wheel. Luckily, Dyland and Jordan were not with us. We are all friends and worked well together over the next 20 miles to put a substantial gap into the chasing two.
Decisive Moments of the race
Around mile 110, Alexey and I pulled away from the other two. A few miles later, Alexey got a gap on me while we were running up a sandy hill, and that was the last I would see of him. Ultimately, the last 20 miles were just about continuing to push on the climbs and staying fully focused, and riding smoothly through the Vasa singletrack. Chasing down Alexey became fruitless, as he was on another level.
I was able to hold onto 2nd place and was pretty happy with the execution on the day. I can't wait to show more people the beautiful area again next year. My Gulo GGA 38's wheels performed excellently and were able to take the rigorous efforts of the long day of pushing myself and my bike to the limit. Now it's time to recover!
Distance: 135 miles
Time: 6hr 50 mins
Elevation: 10000 ft
Avg Speed: 19.7 mph
Avg Power: 250
Normalized power: 306
Avg HR: 152
Calories: 6169
TSS: 419
Carbs consumed: 750g
Sandy hills ran: 5 ish
Lars Hallstrom
___________________________