Belgian Waffle Ride Survival Camp: Asheville, NC
Dates: 16 - 21 August 2021
Discipline: Primarily Gravel
Exclusive course access and reconnaissance
Led by Gulo Composites' John Murphy(4x Paris-Roubaix rider) and Source Endurance Coaching, the latest edition to the BWR Survival Camp calendar offers exclusive course access and reconnaissance for the newest location of the BWR Series in North Carolina. With well over 10k ft of elevation and over 50% of the course on gravel, this will be a chance to gain valuable insight, skills, and tactics to make this BWR adventure a success.
The Belgian Waffle Ride is both a popular and enormously fun cycling adventure and a race. Adventure is the best term to describe this ridiculously difficult course, and it seems like you never have the "perfect" bike. At some point in the day, on mile… who knows… something changes in you as a person, as a bike rider, as a racer, and you become one with the grueling race and realize it's a life fulfilling experience. It will be a story to tell family and friends. Well… not for everyone. According to BWR founder Michael Marckx, "40% of the racers don't complete the event because it's too hard and they're not ready."
Like the heavyweight events Paris- Roubaix, Strade Bianchi, and the Tour of Flanders, BWR Survival Camp North Carolina mimics the professional style pre-ride and course recon now standard practice. This six-day camp begins weeks in advance with a complementary Source Endurance prepared BWR training plan. 
On your arrival to Survival Camp, your adventure starts. You will begin six days of comprehensive course reconnaissance and prep as you complete your event taper. The crescendo will be you toeing the line at the Belgian Waffle Ride on the 6th day with intimate knowledge of what to expect after spending the five previous days studying and strategizing.
The camp will provide you with a relaxed atmosphere as we take care of the support and most of the food and drink during the week, allowing you to focus solely on the riding. Arriving early to WNC gives you the luxury of adjusting to the area, setting up your base camp, and settling in for this much-anticipated event.
What sort of athlete is best suited for this camp?
Consistently active and serious athletes will benefit significantly from this camp. These athletes push themselves in training and consistently accomplish 4-6 training sessions per week. 3-4 hr rides at an endurance pace for 2-3 days in a row are no problem, and even some long training sessions of up to 6 hours are common. These athletes should feel comfortable riding in groups and should be able to handle loose descents and moderate single-track with rocks and roots with ease.
Duration: 6 days, 5 nights
 Daily Mileage: 20 - 110 miles
Total Elevation Gain: 25k+ ft
Terrain: Mountains, Gravel+
Athlete and staff health is something we care deeply about. We will be following the guidelines from:
CDC guidelines regarding Covid-19 

North Carolina Health Department
Those include but are not limited to:
Vaccinations- strongly encouraged

Mask wearing not mandatory for vaccinated individuals

If not vaccinated, please be considerate and wear a mask.

Hand washing and sanitation

Covering coughs and sneezes

Cleaning and disinfecting

Monitoring the health of campers and instructors

 
On Bike
Ride with professional coaches and leaders in gravel racing
Skills clinic and instruction
Tactics workshops: You will learn how to make good decisions during the BWR
Support vehicle on rides over 2 hours
Nutrition and hydration products
Off Bike
BWR Training Plan included with camp
Training and Strategy Presentations
Q & A with Coaches, Instructors and BWR sponsors
Provided: 1 Breakfast, 4 Lunches, 4 Dinners
New lifelong friends
Amenitites
BWR Asheville Entry included with camp (refunded if already registered)
Exclusive first-hand knowledge of a NEW and UNTESTED course
Exclusive access to product discounts from camp partners
Daily bike tune and wash
Test Gulo Composites wheels on the BWR race course
Optional Add On
Daily Massage
Family inclusion. Add a family member to the evening dinners
Nutrition and hydration products
BWR VIP Dinner Experience Friday, Aug 20
Not Included
Airfare
Lodging
Transportation to/ from airport
Bike shipping/ rental/ packing
4 breakfasts, 1 dinner(Friday)
Trip Insurance
Recommended Lodging & Accommodations
We have reserved a block of rooms specifically for BWR survival camp members at a discounted rate. After reserving your spot for the BWR Survival Camp, you will receive an accommodations link for booking.
Adventurous attitude
Race ready bicycle and body
Recommended Gearing of 1:1 ratio.
Race Ready bike complete with fresh tires (+40c), sealant.
Tuned shifting and charged batteries
Complete checklist here
Cleaned tuned race ready bicycle
Helmet
Cycling shoes/ pedals
Eyewear
Heart rate monitor/ power meter (fresh batteries)
Chamois cream
Sunscreen
Backpack for support vehicles
4 jerseys, and a long sleeve
4 shorts/ bibs
Wind vest
Baselayers
Rain jacket
Arm warmers
Knee warmers
4-6 pairs of socks
Cycling gloves: short and long finger
Toiletries for clean up between rides
Light jacket
Tool kit for your bike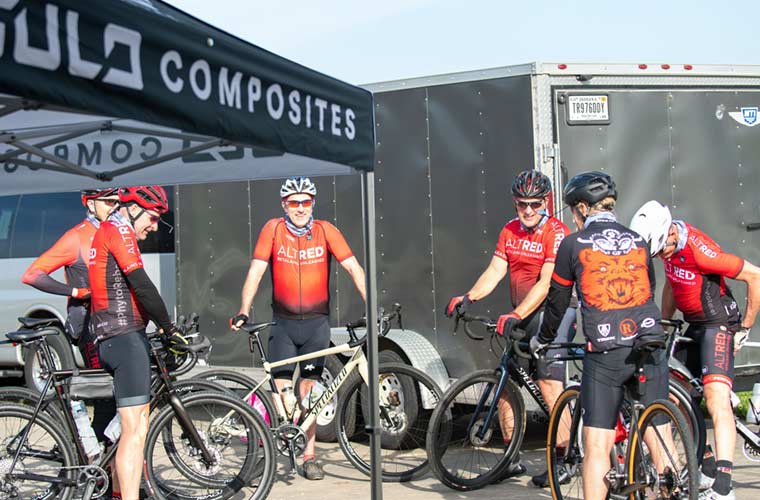 Day 1
Monday | Check In
Upon arrival, pick up your camp packet and meet your ride leaders. Meet the Gulo Composites and Source Endurance team who will be taking care of you during the week. Get psyched for an awesome week of gravel biking, course recon and an overall great time. There will be a skills clinic to review helpful tips to help you brush off any cobwebs on your gravel skills.
Check in 12:30- 3:30pm
Drop in for a short check in and packet pick up.
Skills clinic: 5-6pm
Dinner 7-9pm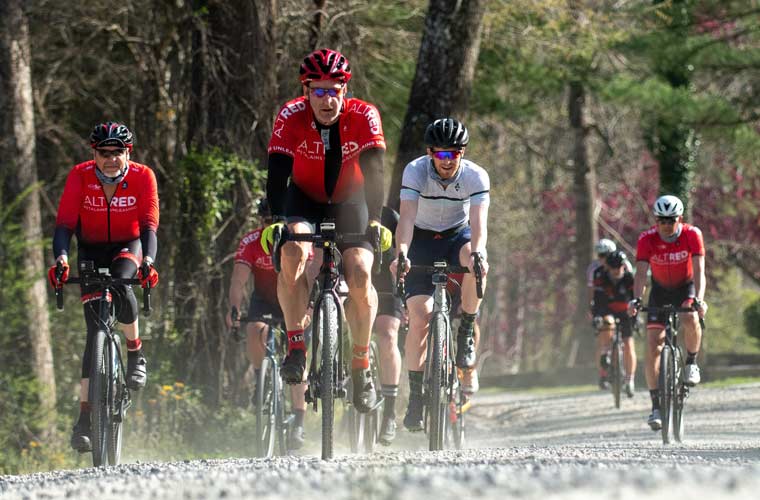 Day 2
Tuesday | Course Recon
First big day in the saddle. We will start the day with a briefing of the route while we drink coffee and make the final preparations for the ride. The goal is to cover half of the waffle course and focus on key sections. This will be a big day in the saddle and will be supported with sag and aid stations in the same location as the main event.
~ 50% gravel
63 miles
6500ft elevation gain
5-6 hours
Lunch provided on the bike
Post Ride
Massage available- Add-on
Dinner
Sponsor presentation with Sierra Nevada Beer available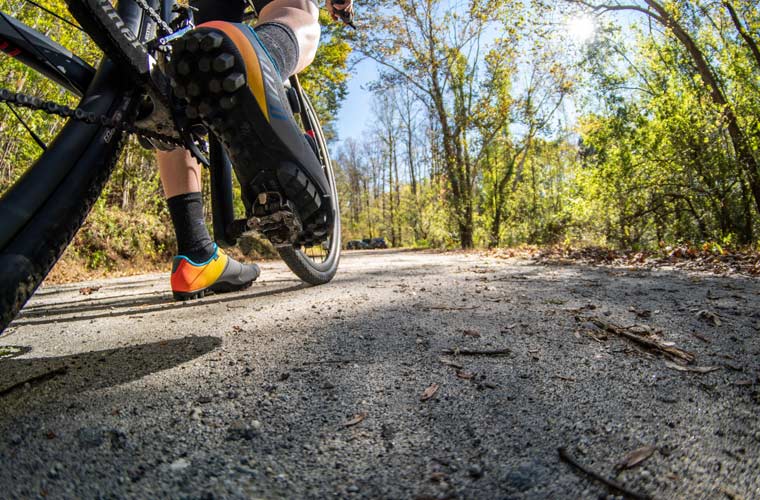 Day 3
Wednesday | Course Recon
A long day intended to fatigue athletes in a similar fashion to the BWR. Yesterday was tough but today will test everyone. We will begin much like the day before with a training presentation and briefing over coffee. The athletes will be supported with sag and aid stations as we explore the final details of the BWR parcours.
~ 50% Gravel
60 miles
5700 ft elevation gain
5-6 hrs
Lunch on the bike
Post Ride
Massage available- Add-on
Dinner
Sponsor presentation with Sierra Nevada Beer available
Day 4
Thursday | Recovery day
Time to recharge and rehydate. We will have an easy ride leaving at 11am and will include industry partners. Today is meant to be low key, letting the recon over the previous two days soak in.
< 30 miles
< 1000 ft
1-2 hrs
Post Ride
Rehydrate and recover.
Massage available- Add-on
Sponsor meet and greet with Sierra Nevada Beer available.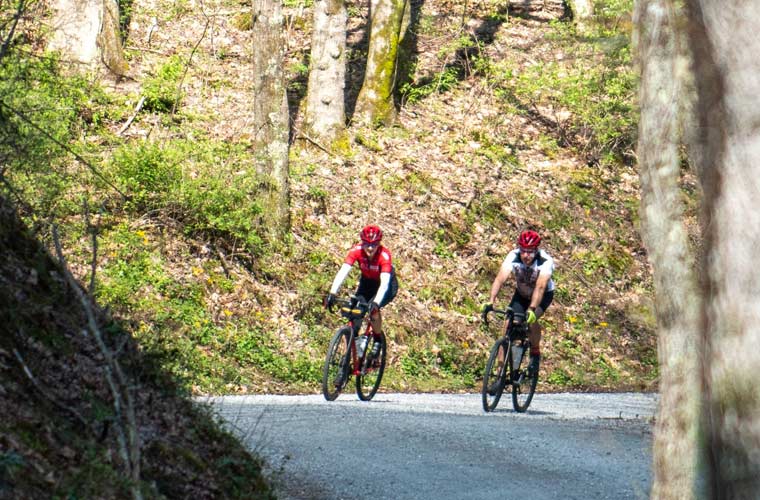 Day 5
Friday | Prerace day 
We want to ensure you get the best possible prep for your BWR. We will have two options depending on your fatigue levels and fitness. If any support or prep is needed to have you ready for the ride on Saturday, today is the day to iron out the details.
Final Check for equipment.
1-3 hr ride
Packet pickup.
Massage available- Add-on
VIP Gala dinner- Optional Add-on.

Includes VIP packet pick up, dinner, drinks, the exclusive course reveal, and co-mingling with pros, sponsors, and other cycling dignitaries. More details will follow as we get closer to the event.

Friday Night Circuit Race- Optional Add-on.

The BWR Twilight Circuit Race- All the things that make the BWR routes great thrown into one 1-2 mile course. Use the same set up as the Saturday route and get ready to have fun racing through the expo/dirt/streets surrounding the venue. Open to all category.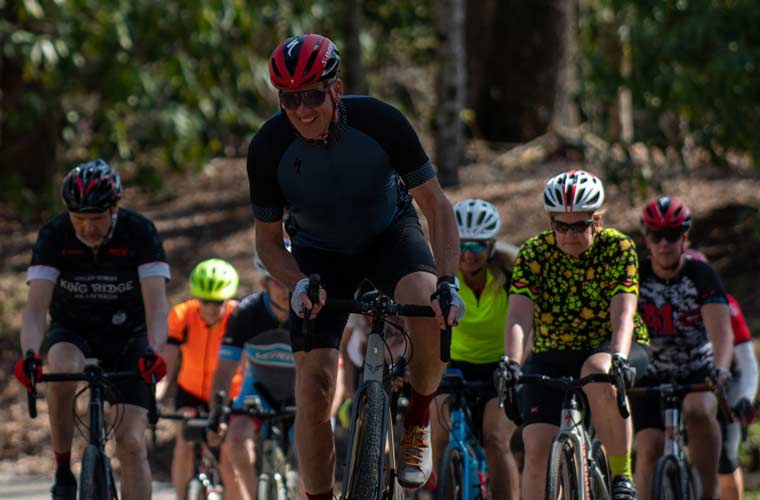 Day 6
Saturday | Race Day
Today is the day!
Time put all the knowledge you learned the past week into action. You have set your goal, and now it is time to put your plan into action. Game face on, time to go!
Athletes will ride either the Waffle, Wafer, or Wanna events.
Choose the course that is most challenging and FUN for you.
Athletes will enjoy themselves to waffles before AND after the event along with refreshing drinks.
Post race meal provided by BWR.
Home base is Kanuga Conference & Retreat Center located at
130 Kanuga Chapel Drive, Hendersonville, NC 28739
If you are flying in then book your flight into:
Asheville Airport - 30 minute drive
Greenville SC Airport - 1hr. drive
Charlotte NC Airport -  1hr. 45 minutes 
You will be able to utilize the Ground Transportation Services to either rent a car or arrange a shuttle.  Once you are at Kanuga Conference & Retreat Center for the camp you will likely not need a vehicle provided you stay at the Kanuga Inn.
We recommend Sycamore Cycles to attend to your bicycle needs. They feature complete bicycle service. Please arrange with them in advance for any foreseen bicycle needs upon your arrival (bike assembly after travel).
If you are shipping your bicycle, please insure that it arrives no later than August 9.  Your bike will be waiting for you upon arrival and check in.
Where are they shipping to? and do we take the bikes down to the shop?
We highly recommend trip insurance and have found  InsureMyTrip. to be super reliable and one of the better options out there for trip insurance. When purchasing you might want to look at the "Cancel for any Reason" option.
I. Gulo Composite and Source Endurance Presents Belgian Waffle Ride Asheville Survival Camp. Terms and Conditions
1. Services: Gulo Composites (​​GC) and Source Endurance (SE) offer coaching, training camps, classes and and other related services (collectively, "Services") under the following Terms and Conditions and represents an Agreement between (GC and GC and SE) and the undersigned Individual ("Athlete"):
2. ​​Camp Registration/Deposit Fees (collectively "camp")​: The applicable deposit for the camp (as designated by GC and SE is due at the time of registration.
3.​​ ​​Cancellation Policy:
Deposit is non-refundable and non-transferrable
Cancellations within (46) days prior to camp date are subject to a cancellation fee of 100% of original camp price.
Cancellations between 90 – 46 days, inclusive, prior to camp date are subject to a cancellation fee of 50% of original camp price
Unless otherwise stated in writing, the remaining balance due after the Deposit is paid, is automatically charged to the credit card on file with GC and SE (45) days prior to the 1st day of the camp.
4. ​​Camp General Policies:
If you have to cancel for any reason, your deposit and additional fees depending on your cancellation date will not be refunded. Exceptions to this policy will not be made for any reason, including weather or personal emergencies.
There are no discounts, refunds or exchanges associated with an Athlete skipping or missing any portion of a camp including, without limitation, meals, lectures or rides.
GC and SE reserves the right to cancel a camp or class at any time. In this event, Athlete will be issued a full refund for any monies paid. GC and SE are not responsible for expenses associated with planning the Athlete's trip including, without limitation, airfare, lodging, meals, transportation, etc., (collectively "Athlete Expenses") to attend any camp.
Camp will be conducted based on the schedule posted prior to the camp. However, GC and SE reserves the right to modify the camp schedule at its sole discretion.
All fees will be applied to the camp for which the Athlete is registered. If Athlete has to cancel for any reason, the deposit and applicable cancellation fees will be applied to the camp for which Athlete was registered and cannot be transferred to an alternate camp or any other service or product offered by GC and SE.
If you are not satisfied with your camp experience, please notify a coach or the camp manager as soon as possible DURING THE CAMP. GC and SE will make a considerable effort to remedy any issues. Refunds will not be issued for camps once the camp has commenced.
The Camps may have specific rules in addition or different from these rules and will be designated on the GC and SE website.
II.General Terms and Conditions (Applies to all GC and SE services)
1.​ Athlete Bike Handling and Storage
GC and SE are not liable for any damage or injury related to the assembly, handling or packing of an Athlete's bike or any other equipment. GC and SE are not liable for any damage or theft of an Athlete's bike or other equipment while stored in a GC and SE training facility or camp location. It is the Athlete's sole responsibility to maintain adequate insurance for all personal property.
The Athlete is responsible for arriving to camps with the necessary equipment and clothing. In no event will Fees for services be refunded to an Athlete due to a lack of or improper, equipment.
2. GC and SE Independent Contractors
Certain services may be provided by independent contractors. These professionals are independent from GC and SE and governed by their respective state licensing authority, if applicable. The use of such services is voluntary and the Athlete hereby indemnifies, releases and holds GC and SE harmless from and against any liability, claims, loss or injury associated with the services.
3. Confidentiality
Athlete agrees that the services provided under this Agreement are strictly confidential and may not be disclosed to any third party without the express written consent of GC and SE, including but not limited to, the materials provided to Athlete from GC and SE, the techniques and methodologies utilized by GC and SE and its staff in rendering Services under this Agreement and the substance of the communications between GC and SE and the Athlete. Athlete agrees that Athlete shall not reproduce any materials provided to Athlete by GC and SE and, further, that Athlete will not remove any proprietary markings from materials provided to Athlete from GC and SE, including any confidentiality notices and/or copyright notices. It is expressly understood and agreed that GC and SE is the sole and exclusive owner of all concepts, programs, ideas, materials, copyrights, trademarks and other intellectual property rights associated with the Services. The parties further agree that neither party shall make any disparaging remarks about the other party in the event this Agreement is terminated.
4. Athlete's Responsibilities
Athlete hereby agrees to abide by all applicable industry associations and national governing bodies policies and regulations surrounding the nonuse of performance enhancing drugs, including any banned substances
5.​ ​Waiver and Release of Liability, Assumption of Risk and Indemnity
A​. ​RELEASE AND ASSUMPTION OF RISK:
ATHLETE REPRESENTS THAT ATHLETE IS AT LEAST EIGHTEEN (18) YEARS OF AGE. FURTHER, ATHLETE UNDERSTANDS AND AGREES THAT: (I) PARTICIPATION IN THE SERVICES IS VOLUNTARY; (II) THE SERVICES MAY REQUIRE INTENSE PHYSICAL ACTIVITY; (III) AND THAT SUCH PARTICIPATION CARRIES WITH IT CERTAIN AND INHERENT AND UNAVOIDABLE RISKS, INCLUDING AN INCREASED RISK OF SERIOUS ILLNESS, INJURY, PARALYSIS, OR EVEN DEATH. WITH FULL AWARENESS OF SUCH RISKS, ATHLETE AGREES THAT ATHLETE ASSUMES THE RISK OF PARTICIPATING IN THE SERVICES. ATHLETE CERTIFIES THAT ATHLETE IS PHYSICALLY FIT AND SUFFICIENTLY TRAINED FOR PARTICIPATION IN THE SERVICES AND THAT ATHLETE HAS NOT BEEN ADVISED AGAINST PARTICIPATION BY A QUALIFIED HEALTH PROFESSIONAL.
ATHLETE UNDERSTANDS AND AGREES THAT ATHLETE IS SOLELY RESPONSIBLE FOR ARRANGING ANY LODGING, TRANSPORTATION, EQUIPMENTS AND OTHER RELATED TRAVEL ACCOMMODATIONS AND ALL EXPENSES NEEDED BY ATHLETE TO PARTICIPATE IN THE SERVICES ("ATHLETE EXPENSES"). GC and SE IS NOT LIABLE FOR ANY SUCH ATHLETE EXPENSES FOR ANY REASON INCLUDING, WITHOUT LIMITATION, CANCELLATION OF THE GC and SERVICES.
ATHLETE AGREES THAT ATHLETE IS VOLUNTARILY PARTICIPATING IN THE SERVICES, WHETHER CURRENTLY, OR IN THE FUTURE, WITH THE KNOWLEDGE OF THE NUMEROUS RISKS AND DANGERS INVOLVED AND GC and SE SHALL BEAR NO RESPONSIBILITY OR LIABILITY INCLUDING, WITHOUT LIMITATION, (I) NEGLIGENCE IN ANY MANNER ON THE PART OF GC and SE IN THE CONDUCT OR ARRANGEMENT OF THE SERVICES, (II) EQUIPMENT INCLUDING, WITHOUT LIMITATION, SELECTION, ASSEMBLY, SHIPPING, PACKING, HANDLING, STORAGE, FAILURES OR MAINTENANCE; (III) THE MAINTENANCE OR OPERATION OF ANY VAN OR OTHER MOTOR VEHICLE UTILIZED TO TRANSPORT ANY ATHLETES OR ANY OTHER TRANSPORTATION FAILURE, REGARDLESS OF THE MODE OF TRANSPORTATION; (IV) PHYSICAL EXERTION FOR WHICH I AM NOT PREPARED; (V) RISK ASSOCIATED WITH FOOD, IMPURE WATER OR OTHER BEVERAGES; (VI) CRIMINAL ACTIVITY; (VII) DANGERS ASSOCIATED WITH WILD OR OTHER ANIMALS; (VIII) HIGH ALTITUDE, ACCIDENT OR ILLNESS WITHOUT ACCESS TO MEANS OF RAPID EVACUATION OR AVAILABILITY OF MEDICAL SUPPLIES OR SERVICES AND/OR THE AVAILABILITY OR ADEQUACY OF MEDICAL ATTENTION ONCE PROVIDED; OR (IX) LOST, STOLEN OR MISPLACED LUGGAGE OR PROPERTY. ATHLETE ACKNOWLEDGES THAT THE ENJOYMENT DERIVED FROM PARTICIPATING IN THE SERVICES AND THE INHERENT RISKS ASSUMED ARE BEYOND THE ACCEPTED SAFETY OF LIFE AT HOME OR WORK. ATHLETE HEREBY AGREES TO BE RESPONSIBLE FOR HIS/HER OWN WELFARE AND ACCEPTS ANY AND ALL RISK OF DELAY, UNANTICIPATED EVENTS, INCONVENIENCE, ILLNESS, INJURY, EMOTIONAL TRAUMA OR DEATH. ATHLETE FULLY
DISCHARGES AND COVENANTS TO GC and SE THAT ATHLETE, NOR ANY OTHER PARTY ON BEHALF OF ATHLETE WILL SUE OR THREATEN TO SUE GC and SE AND AGREES TO INDEMNIFY AND SAVE AND HOLD HARMLESS GC and SE, GC and SE'S REPRESENTATIVES, DIRECTORS, AGENTS, EMPLOYEES, OFFICERS, VOLUNTEERS, OTHER ATHLETES, ANY SPONSORS, ADVERTISERS AND IF APPLICABLE, OWNERS AND LESSORS OF THE PREMISES ON WHICH THE SERVICES MAY TAKE PLACE (EACH CONSIDERED ONE OF THE "RELEASES" HEREIN) FROM ALL LIABILITY, CLAIMS, DEMANDS, LOSSES OR DAMAGES ON THE ATHLETE'S ACCOUNT CAUSED OR ALLEGED TO BE CAUSED IN WHOLE OR IN PART BY THE NEGLIGENCE OF THE RELEASES OR OTHERWISE, INCLUDING NEGLIGENT RESCUE OPERATIONS.
B. INDEMNIFICATION
IN CONSIDERATION OF GC and SE'S ACCEPTANCE OF ATHLETE'S REQUEST TO PARTICIPATE IN THE SERVICES, ATHLETE HEREBY INDEMNIFIES, RELEASES AND FOREVER DISCHARGES GC and SE AND ANY GC and SE REPRESENTATIVE FROM ANY LIABILITY, CLAIMS, LOSSES, COSTS, OR EXPENSES, AND WAIVES THE RIGHT TO PURSUE LEGAL ACTION AGAINST GC and SE ARISING DIRECTLY OR INDIRECTLY FROM ATHLETE'S PARTICIPATION IN THE SERVICES, INCLUDING CLAIMS OR DAMAGES RESULTING FROM DEATH, PERSONAL INJURY, PARTIAL OR PERMANENT DISABILITY OR PROPERTY DAMAGE, MEDICAL OR ECONOMIC LOSSES, INCLUDING ATTORNEY'S FEES, WHETHER CAUSED IN WHOLE OR IN PART FROM THE SERVICES OR ANY INSTRUCTION OR TRAINING ASSOCIATED WITH THE SERVICES AND WHETHER BASED UPON THE BREACH OF ANY EXPRESS OR IMPLIED WARRANTY, NEGLIGENCE OR UNDER ANY OTHER LEGAL THEORY. THIS RELEASE SHALL BE BINDING UPON ATHLETE'S HEIRS, ASSIGNEES, SUCCESSORS AND PERSONAL REPRESENTATIVE. ATHLETE HEREBY FURTHER STATES THAT ATHLETE CURRENTLY SUFFERS FROM NO PHYSICAL OR MENTAL CONDITION THAT WOULD IMPAIR HIS/HER ABILITY TO FULLY PARTICIPATE IN THE SERVICES. ATHLETE HEREBY ACKNOWLEDGES THAT GC and SE MAKES NO WARRANTIES OF ANY KIND, EXPRESS OR IMPLIED, AND DOES NOT GUARANTEE INDIVIDUAL RESULTS. ATHLETE, NOT GC and SE, IS PERSONALLY RESPONSIBLE FOR THE ACHIEVEMENT OF INDIVIDUAL PERFORMANCE GOALS.
6.​ ​Requirements to Obtain Services if Under the Age of 18.
For participation in Services of individuals under the age of 18, a written agreement executed by a parent or legal guardian is required. For purposes of this Agreement, the term "Athlete" shall include the parent or legal guardian. Further, Athlete agrees that if, despite the release hereunder, the minor Athlete or anyone on the minor Athlete's behalf makes a claim against any of the Releases named above, minor Athlete, minor Athlete's parent and/or legal guardian will indemnify, save and hold harmless each of the Releases from any liabilities including, without limitation, litigation expenses, attorneys' fees, damage or cost incurred as a result of, or in any way, associated with any such claim.
7.​ ​Governing Law
This Agreement shall be construed under and in accordance with the laws of the State of North Carolina exclusive of any conflict-of-law or choice of law rules and principles. Any legal action or proceeding arising out of or relating to this Agreement shall be commenced in the state or federal courts located in Transylvania County, North Carolina and Athlete irrevocably submits to the exclusive jurisdiction and venue of such courts.
8.​ ​General
This terms and conditions of this Agreement may not be amended or modified without the express written consent of GC and SE and any attempt to do so shall be null and void. Athlete may not assign his/her rights or delegate his/her duties under this Agreement without the prior written consent of GC and SE. The Services are not transferable. This Agreement, together with the terms and conditions of the Coaching Package, as well as any Waiver, constitute the complete and exclusive statement of all mutual understanding between the parties with respect to the subject matter hereof, superseding all prior proposals, communications and understandings, oral or written. As part of this Agreement and for no additional consideration or agreement, GC and SE may request the consent of the Athlete to use the Athlete's name, image, likeness, and video training, for promotional purposes GC and SE and any such consent by Athlete shall not be unreasonably withheld.
9. Photo Release
I agree to grant to GC and SE and its authorized representatives permission to record photography, film and/or video, pictures of my participation. I further agree that any or all of the material photographed may be used, in any form, as part of any future publications, brochure, or other printed materials used to promote GC and SE, and further that such use shall be without payment of fees, royalties, special credit or other compensation. If you would like GC and SE and its authorized representatives not to use your likeness, please inform the GC and SE Camp Manager ahead of the camp.
How far in advance should I book my spot?
We recommend booking your camp at least 70 days in advance. Our camps sell out quickly and we expect that to continue as the pandemic subsides. Also, committing early to the camp leaves more time to commit to proper preparation for the camp.
How many people will be at the camp?
The camp size will be capped at 24 people. Campers' ability is wide ranging and we make sure to have a program that challenges everyone yet leaves no one over-reaching to the point of failure.
When is final payment due? You can pay in full up front. Otherwise, a deposit is required and the remaining payments are split between 30 and 60 days from your deposit date with payment in full occurring 45 days prior to camp start date. Currently, you can pay a 40% deposit, 30% after 30 days and 30% after 60 days. It will move to two 50-50 payments and then a single payment as we get closer to the event date.
Can my family/ significant other join me for meals?
Family and significant others can definitely join for the meals.  Please contact us at least 14 days prior to the camp start date for a meal quote and payment.
Can you accommodate dietary restrictions?
Let us know immediately once you have booked your place at camp. We will absolutely do our best to meet your dietary needs.
How do you support different athlete levels at the camps?
We start by keeping the athlete to coach/ instructor ratio small.  Then we make sure to adjust route distances with the goal of making sure everyone finishes the day with a ride that challenges them without devolving into a "death march."
When will I be contacted after I sign up?
You will receive a confirmation email immediately after signing up.  Later, you will receive special email communiques as they pertain to your camp.
Do you offer travel insurance?
We highly recommend securing your investment with travel insurance. InsureMyTrip.com is a good option for travel insurance. We recommend you explore the "cancel for any reason" option.