The Coast to Coast 2022 Gravel Grinder 213 epic miles epic gravel biking event
The Coast to Coast Gravel Grinder is an epic gravel biking event that spans from Lake Huron to Lake Michigan. This isn't just any gravel event; the demanding event is 213 miles long with over 80% gravel. The terrain includes pavement, hardpacked to loose gravel roads, snowmobile trails, and lots of sand. In the grand scheme, there wasn't much sand relative to the gravel, but you go so slow that it seems to last forever.
This ride is primarily self-supported, with only 3 sag/aid station stops; that is a minuscule amount of stations when you compare it to the support of the recent BWR NC event, which had 8 SAG stops over a 130-mile course. 
To complete this event, you have to have a working GPS device (in my case, a Garmin 1030), an up-to-date cue sheet for turns in case your GPS dies, a front and rear light, and plenty of food and drink to make it from sag stop to sag stop. This could be upwards of 6-7 hours in some instances.
Gravel-specific bike set-up
I rode my Felt Breed, which is a gravel-specific bike with a single chainring in the front and a Shimano GRX group. The wheels of choice was the Gulo Composites GGASL wheelset, the lightest gravel adventure wheel (1200grams) in their lineup. The G1 Composite spokes reduce the vibrations so dramatically that it makes a huge difference in these ultra-endurance gravel events. I seal up a set of IRC Boken Doublecross 42m tires to create the ultimate combination for sand, gravel, and a bit of pavement. Weighing in at 185 pounds, I went with 35 psi in both tires.
This is a slightly higher pressure than I usually run, but I knew I could let some air out throughout the day if I needed to. Plus, I have a little more room to run higher pressure with the Gulo wheels because the spokes deliver such a smooth ride, which offsets the gravel chatter.
My Pack List
Bike Bag Choices
I opted to use a variety of bike packing bags:
Revelation Frame bag
Top tube feed bag
Top tube gear bag
2x handlebar feedbags.
Additional gear:
Garmin in-reach(satellite communication)
iPhone 13
Spare battery bank with lightning
Micro USB cable(for Garmin and iPhone)
Niterider 900 lumens helmet light
Niterider rear light
2 spare tubes
3 small tubes of sealant
1 stash of bacon strips/tubeless plugs
Chain tool
Spare brake pads
2x C02
Spoke wrench
Chain lube
The fuel…my nutrition
Regarding nutrition, I am a big fan of the Bobo bars for most of my on-the-bike eats. I like them because of the simple ingredients, dense and full of calories, to keep me going all day. I brought 12 Bobo bars (a variety of flavors) at the start and then had 10x ready for each SAG stop. This is overkill, but I like to carry a lot of extra food in case anyone in my group needs it. I also used scratch's super fuel drink mix, which delivers 400 calories per bottle; I only used 5 scoops instead of the recommended 7 per bottle. I also supplemented with NUUN tablets for salt/electrolyte loss throughout the day. I had about 2 bottles of hydration mix for every bottle of plain water.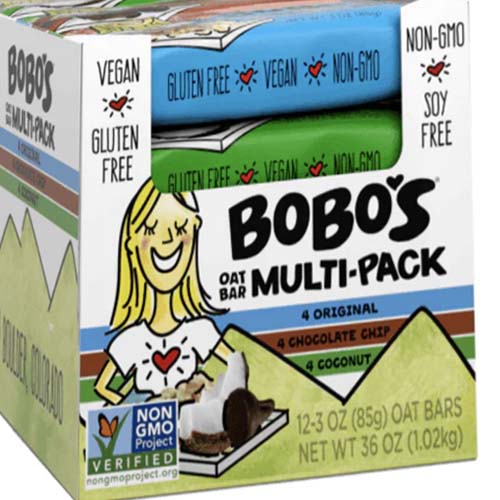 The adventure
Ok, now on to the adventure. I felt like I was prepared with tools, supplies, and food for the day; next was all the pedaling. I've been riding and racing my bike for over 20 years, and 213 miles is by far the longest ride I have ever done. Since I retired from professional road racing in 2021, I have left daily training behind for full-time work with Gulo Composites and spending all my spare time with my family. I have been bike-packing several times over the last 12 months, so I am used to the adventure aspect of this event and carrying all the necessary equipment for a long day. But I am relying on the muscle memory of my lifetime of cycling to carry me physically and mentally through this event.
Ride strategy
The day's main goal was to finish before sunset, which was 9:39 pm, and my strategy was to break the ride into four segments.
Race Start: 6:00 am
The race started at Lake Huron, and I did the ceremonial dip of the rear tire before the 6 starts. The sunset was beautiful and really set the tone for the day. It was a cool 60 degrees which felt incredible. Everyone was stoked for the colossal adventure ahead. The first chunk of the race has the most pavement, which translates to much faster riding. I was planning to stay with a friend and a group of 10 other riders from the Northwest Indiana area. We did a good job riding together, keeping a pretty quick pace on the pavement, and regrouping after the gravel sections. Slow and steady was the mindset. We needed to keep lots in the tank for the second half of this epic day, and our hydration goals were to drink one 24oz bottle an hour. We arrived at the first checkpoint/Sag stop a mile marker 60 in just over 3 hours. We made great time averaging 18mph.
Check Point 1: Mile 60 – 10:30 am
It was fantastic to get to the first checkpoint and see my wife and kids there. Liam, my 5-year-old boy, was ripping around the parking lot on his bike. I can already tell he is ready to do these races himself soon. We quickly started our SAG routine, reloading bottles and bars, reapplying sunscreen and chain lube, making necessary bike adjustments, and saying hi to our amazing sag support. As we embarked from the first checkpoint, our group quickly got smaller as we spent less than 10 minutes resupplying for the next chunk of the day. We started the second segment, which launched us into more gravel, sand, and epicness. This was a shorter segment but a tough one. After a couple of hours into this segment, the early morning efforts took their toll on our group. We'd been in the saddle for over 6 hours, and the heat of the day was beginning to set in. Our average speed is dropping due to the increase in gravel and loose sand sections. The challenging part of riding in the sand is not just the fact that our speed drops substantially but also that it takes much more effort(watts) to ride through it. The sand also takes its toll on the chain and gears. It's essential to reapply chain lube as often as possible when riding through deep sand sections. Despite the fatigue, sand, and sun, we soldiered on and made it to the next SAG stop.
Check Point 2: Mile 107 – 1:30 pm Arrival
Upon arrival at our second checkpoint, my good friend I was riding with was having a tough time. It was now over 90 degrees, and much of the roads we were riding were very exposed. The heat can make eating and drinking more challenging to replace what is lost.
This can be a deal-breaker in an event like this. You're only as strong as your fueling, and sometimes your body will start to shut down in this type of heat.
My friend decided this was not his day, and he was pulling the pin. I restocked on bottles and bars and made sure I had my lights ready. Our group was spread out, so I was going to charge forward and take on the remainder of the event at my own speed. This would be the longest section of the event, the most gravel, and the most climbing of the day.
Looking at our average speed at this point, I was going to have to pick the pace to make my goal of finishing by sunset, which was 9:39 pm. I picked up my pace everywhere, but the loose sand sections were longer and more often than before. Even as I was pushing harder, I was also riding slower, but I was committed. My Gulo wheels rode excellently through the rough roads, and this is the point in the day that I was extremely grateful for the G1 Composite spokes and how much of the vibrations they absorb.
Everything was going great until I was jamming down this descent into a right-hand turn. Maybe I was getting a little sloppy from being tired, but my friend's wheel broke loose. This had happened dozens of times previously in the ride, but I couldn't save it this time. My bike went out from under me, hitting the ground pretty hard.
My Garmin broke off my mount, my shoes came undone, and my bars got twisted. I was ok, just lost a little skin off my palms and hip, but with the Garmin mount being broken, I was in a tough place. I remembered that I had packed some gorilla tape in my frame bag for emergencies, so I grabbed it and taped my Garmin onto my bars. Without my Garmin, I'd be totally lost. This worked, and I was back up and running. I lost a bit of momentum and some of my motivation to make the sunset finish, but I kept pushing forward
Finish: Mile 213 – 9:39 pm and 15.5 hours later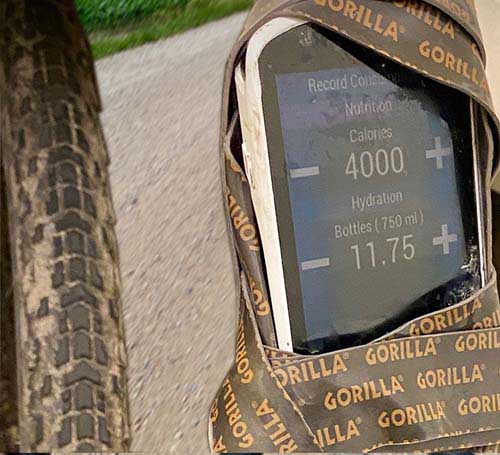 Conclusions lessons learned from my longest ride ever:
I was extremely impressed with the Gulo Wheels and how comfortable they were during the longest ride of my life. I have been beating these wheels up on multiple bike packing trips, which cause a considerable strain on your wheels. These wheels have thousands of hard miles on them and are still in excellent shape, and I'm a heavy rider and pretty hard on my wheels.
The GGA38 wheels would probably be a better fit for me as a rider, but I like testing our lightest wheels to the extreme. I have been riding the GGASL wheels because of how light they are, but I don't need my wheels to be the lightest; I just want them to deliver on their ride promise and give me a smooth ride which they did in spades.
Final notes: always carry plenty of sunscreen and chain lube AND always pack some gorilla tape for anything mother nature could throw your way.
*Note: Huge props to my 3-year-old Garmin 1030 for the on-course navigation. The battery lasted for the entire duration of the race, 16+ hours. I did carry a spare Garmin 530 with the maps preloaded in case my 1030 died.
The million-dollar question: Would I do this event next year? To soon to tell, haha!