GRAVEL
Every day, every adventure, every race. The AllTerra wheel system spans categories, bringing Gulo's lightweight performance, strength, and compliance to all of your rides, adventures, and races. Whether it's a hundred miles on haggard roads, an excursion into the unknown, or the biggest race of the season, there's an AllTerra wheelset for you. With Gulo's triaxial braided spokes delivering ultra-lightweight performance and unmatched durability, along with heaps of vibration damping to keep you feeling fresher longer, AllTerra is ready for whatever the day may bring.
GGA SL
GRAVEL ADVENTURE
25mm Internal Rim Depth
23 Carbon Rim Depth
Let the adventures begin
1215g wheelset (550g front/665g rear)

25mm internal rim width

30mm external rim width

23mm carbon rim depth

Hookless rim | Tubeless-only

Center-lock(disc only)

Recommended tire size: 28C-50C

700c only

G1 Composite Spokes(24)

Tubeless Tape/Valves included

Lifetime Warranty

30-Day Money Back Guarantee
GGA 38
GRAVEL AERO
25mm Internal Rim Width
38 Carbon Rim Depth
Stiffness and speed like nothing else.
1307g wheelset (600g front/707g rear)

Hookless rim - Tubeless-only

25mm internal rim width

32mm external rim width

38mm carbon rim depth

Recommended tire size: 28-50C

700c only

G1 Composite Spokes(24)

Center-lock disc only

Lifetime Warranty

30-Day Money Back Guarantee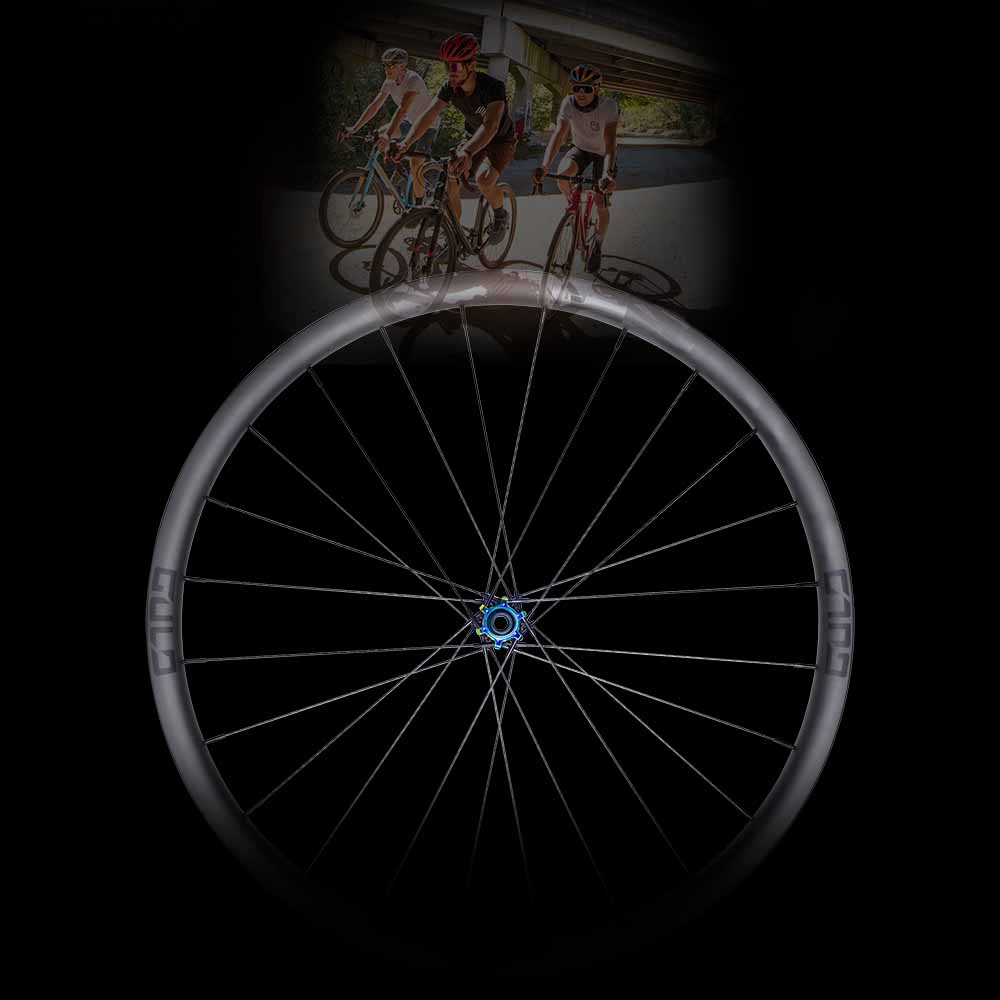 GGX SL
GRAVEL CROSS
22mm internal rim depth
28mm carbon rim depth

Built for gravel and everything in between
1265g wheelset (576g front/689g rear)

Hooked rim Tubeless-ready

22mm internal rim width

29mm external rim width

28mm deep

Recommended tire size: 25-48mm

Center-lock disc only

G1 Composite Spokes(24)

Lifetime Warranty

30-Day Money Back Guarantee
Gravel Adventure
When weight is paramount, it shouldn't come at the cost of compliance and durability. Fortunately, with the AllTerra GGA SL, it doesn't. The 1215g hookless wheelset is astonishingly lightweight yet still ready to handle whatever your ride encounters. When you add the compliance that comes with Gulo's G1 spoke, you can focus on the next KOM instead of feeling beaten down from the road. With the 25mm internal rim width, you can pick wider tires for your epic adventures where aerodynamics is less critical.
Gravel Aero
In a long gravel race, plenty of things can make your day go one way or another, and Gulo's AllTerra GGA 38 is the obvious choice when you're looking to stack the odds in your favor. The Gulo Integrated System brings it all together. Lightweight and durable are givens. Add in incredible compliance to stave off the fatigue that a long day in the saddle brings, plus the incredible aerodynamics of the 38mm deep sectional rim, and you've come prepared to ride at full tilt.

Gravel, Road CX
Versatility is the name of the game with the GGX SL. With a tubeless-ready hooked rim, the GGX SL can handle everything from a 25C-48C tire and all the terrain to match it. 200-mile gravel race? Got it. Cyclocross racing? Ok. Riding, training, exploring, and questionable route selection? Bring it on. Want to throw on slicks for the weekday road ride? Go ahead! If there's one true do-it-all, the GGX SL is it; and it does it with the performance, compliance, and durability Gulo wheels are known for, all while weighing a mere 1265g.

Compliance
Gulo's Ride Smooth Technology (RST) used in the G1 spoke maximizes stiffness and strength while offering up gobs of comfort and compliance where you want it. RST cuts down on vibrations and chatter from the terrain to keep you feeling fresher with more control and confidence, especially when things turn technical.
Strength
Durable. Dependable. Powerful.
It's a given that you want your wheels to hold up to the elements, and it's critical when you're in the elements. It shouldn't have to be sacrificed for light weight, and thanks to Gulo's G1 triaxially braided composite carbon spoke, it's not. AllTerra is there no matter what with reliability and dependability. Plus, since the system is always working together, all of the power you put in translates to forward motion, accelerating you toward your goals.
Versatility
Gulo Gulo - The Wolverine
Just like the Wolverine, the AllTerra is versatile. While its primary focus may be gravel, it doesn't shy away from miles on the road or the podium at a cyclocross race, and you shouldn't, either. Having a wheelset that suits your primary objective makes sense, but having one that allows some versatility is critical for the well-rounded cyclist. AllTerra truly embodies "All Earth" and leaves nothing holding you back when it comes to riding wherever and however you want.