A visual examination of my introductory year in cycling, a sport I have come to love.
What Exactly Happened to Cycling?
In 2020, the world was hit by the COVID-19 pandemic. People around the world went into lockdown. With non-essential businesses closed gyms were left empty. People took to new activities to stay in shape, get in shape, or simply to get outside. Bike shops sold out across the United States and bicycle manufactures couldn't keep up with demand. On top of this, many world borders were restricted, and supply chains became strained. For frame of reference, according to Bike Universe Asian factories account for almost 95% of bikes sold in America. With bikes flying off shelves many people turned to buy bikes second hand or upgrade their existing ones. A new population of American cyclists is here and here to stay. I am one of those cyclist let me take you through my early journeys in the saddle.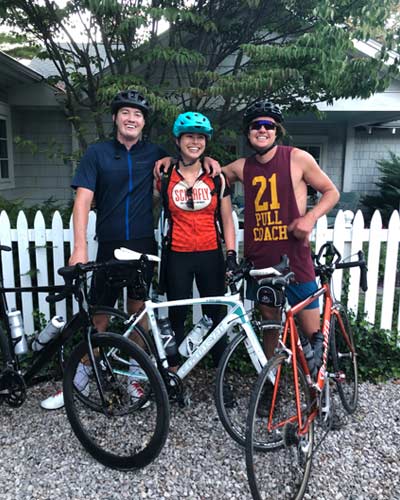 The Early Days
It was week 1 of the pandemic lockdown and I was in my DC house with my 3 roommates. Just a few days in, I realized I was going to need something to keep me entertained and fit while the office and gym were closed. On March 22th I ordered a Cannondale Synapse Disc 105 from REI. I wanted a good endurance bike but not one that would that break the bank. With anxiety around COVID-19 was at an all-time high due to uncertainty I also purchased a Tacx Booster Indoor trainer to be able to spin my wheels from the comfort of my home. Both arrived March 28th. The cliche is "it's as easy as riding a bike" but I had never really ridden a bike in the city, I wanted to feel confident with my fitness, and to be honest I wasn't even sure where I'd go. So, I stuck to the trainer for a little while. I didn't have any type of speed sensors, so we look solely at duration.
Gulo Composites Launch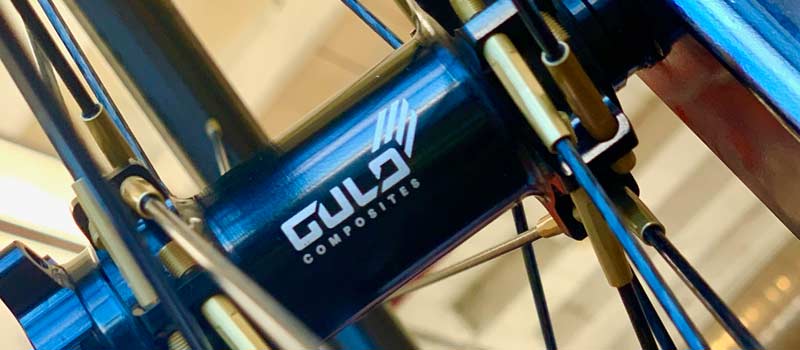 On April 19th, after 4+ years of research and development my dad and Keir Manufacturing launched their first ever consumer goods brand. A bicycle wheel company featuring state of the art carbon fiber spokes. Gulo Composites, named after the powerful and versatile wolverine. While I loved the idea of a new fitness method for lockdown, this is the real reason why I personally threw myself into the cycling world. Let's take a look a wheel weights vs. prices.
Summertime in Northern Michigan
Due to the COVID-19 pandemic, my roommates and I ended our lease is DC and packed up and moved home to save some money and spend time with family. With a full Penske truck, I headed north. I ended up spending a lot of my time in a place no 25-year-old wants, their parents' basement.
I ditched the trainer for laps around the lakes and climbs up the rolling hills of Leelanau County. The summer was balanced between work, rounds of golf, sailboat races, and these rides. I was truly blessed to have this time.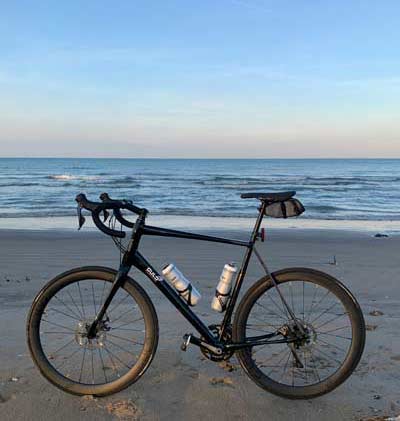 Sweet New Home Chicago
As Summer turned to Fall and Fall quickly turned to Winter in Chicago my outdoor riding slowed dramatically. Throw in the fact I did not have cold weather gear and you get a sad 10 outdoor rides over a 4-month period. Being new to the city of Chicago I wanted to use my bike a method for exploration. With many other activities closed down due to COVID-19. Being outside and in the saddle was an amazing alternative. Looking back on this data I wish I had taken more advantage of the warm weather in September when I had it.
As you can tell from the map, I sent almost all my time on the bike on the lakefront. I've really fallen in love with this public space. While it can definitely be crowded with pedestrians and Divvy bike commuters it is so nice to have a space away from cars so close by.
Moving into warmer days of 2021 I look forward to breaking away from the lake front and exploring more areas of the Chicago area and finding cycling gems.
The Zwift Experience
These last few months Zwift Provided me a very special experience. I was working from my one-bedroom apartment in the city whether it was in between two calls or after a full day's work I could hop on my trainer and ride. It became just an effortless exercise not in the sense that it wasn't hard but that I could do it so quickly and make it happen at any time.
I fell into a habit of doing 4-5 rides a week each of about an hour. Even over the holidays I brought my trainer to Michigan and rode with my sister. Nothing can beat the pure joy of riding outside, but the trainer does provide a different experience, one of a lot more sweat and a very targeted workout.
As I write this in early March as the temperature has started to rise, I feel more powerful when riding outside. These past few rides the Chicago lakefront has been incredibly busy with joyful people coming out of their midwestern hibernations but despite the added crowds I have been able to set some new PRs with relative ease.
A Year of Review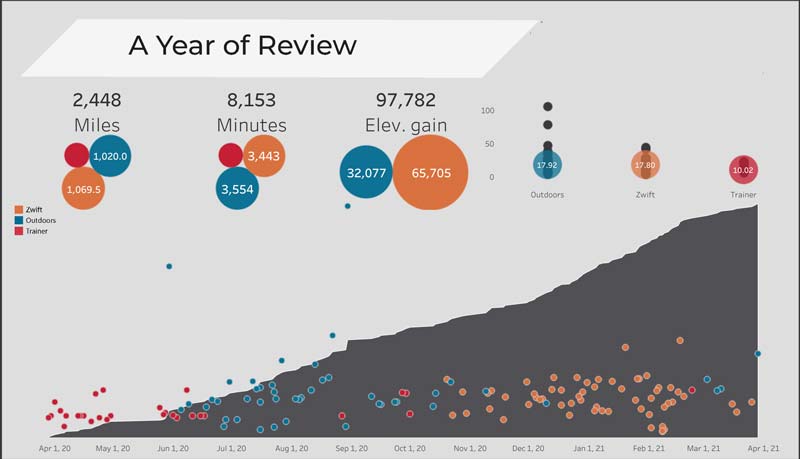 This year cannot be fully expressed through data though it does highlight some interesting facts. In terms of the total amount of rides I have ridden more on Zwift than outdoors. I guess that comes with Chicago Winters but hope to change that this year. My longest rides were all outdoors which makes sense as I tend to hit a wall when riding inside. To avoid my largest rides skewing my numbers we can see that the median lengths are surprisingly longer on Zwift.
In Summary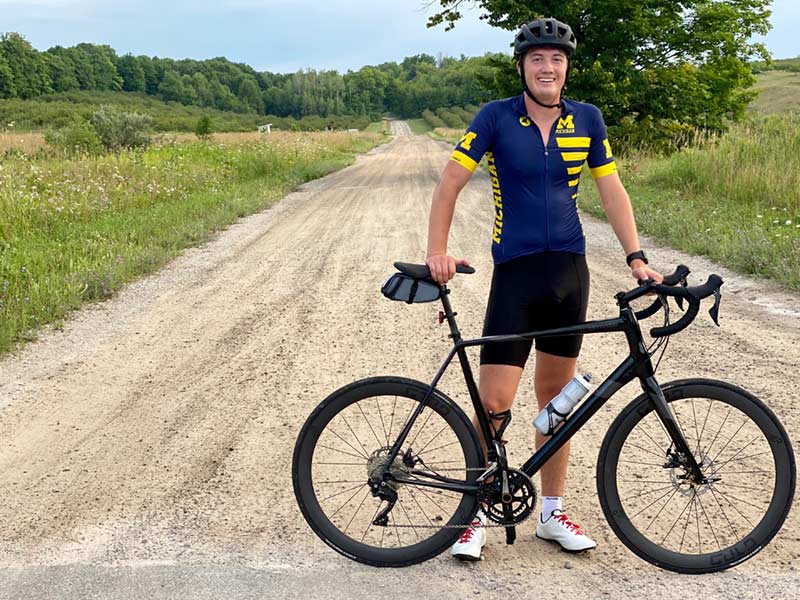 COVID-19 and the founding of Gulo Composites has brought me something really special. An activity that I truly love and something that challenges me and pushes me to continually become a better version of myself. Some days it feels like a chore but that only lasts up until the moment I am on my bike. In 2021 I want to push myself even further. I want to conquer multiple centuries: biking to the Wisconsin boarder from my home in Chicago, the length of M22 in Leelanau County, and hopefully a few more. One thing that has been difficult is trying to get involved with the cycling community in 2020. I am hopeful that things continue to open up more and I will be able to join a local cycling group to meet some new people as well as to learn more about cycling from others. So far, all that I know is self-taught and would love to become better at servicing my own bike and knowing the ins and outs of the space. While 2020 was a difficult year it brought me this unexpected blessing of cycling and I am beyond excited to see where it continues to take me.
Full Interactive Visualization of my 2 wheel journey click here