Reinventing the wheel
Brevard's Keir Manufacturing is reinventing the wheel with its latest product launch – the first bicycle wheel system with braided, impact-resistant, carbon fiber spokes.
The product marks KEIR's first consumer product and new brand, Gulo Composites, and CEO David Watkins believes it's is going to be the first successful carbon fiber spoke on the market.
"We've got the lightest, strongest, toughest wheels in the world, in terms of bikes. They're great for mountain bikes, gravel bikes and road bikes," said Watkins. "It's been a four-year odyssey in discovery and innovation. It's very exciting for Keir Manufacturing, which has been in Brevard for 37 years in technical ceramic composites and abrasive products. This is our first consumer product."
Gulo Composites launched its wheel systems last week after over 13,000 hours of research and development and is offering its top-of-the-line wheel sets to cycling enthusiasts for a tougher, smoother cycling experience, said Watkins.
There are several other bike component manufacturers in the area, in part due to the thriving cycling scene present in Western North Carolina. Cane Creek, Ohlins USA and Industry Nine are all big-name component brands in the bike world in the Asheville and Hendersonville area, but now Brevard has a component manufacturer to call its own.
Watkins hired former professional cross country cycling racer and mechanical engineer Richie Trent to help develop the wheels, and Trent believes Gulo's technology can do what other component manufacturers couldn't.
"It works really well," he said. "It's very difficult to make a carbon bicycle spoke. Many companies have tried to do it…they've just never been super successful with it and there hasn't been a system that works well with it. I can probably list four to five bike companies that have tried to make wheels with carbon spokes, with very low levels of success. Some of them just basically end up making an entire carbon fiber wheel, where all the spokes aren't separate from the rim or the hub. They're actually bonded all as one piece. So, that's one solution that they've come up with, but it's not great, because if you break one piece or one spoke or anything, the whole wheel is trashed."
Trent said with Gulo's wheel system, the spoke itself is made of braided fibers, like a rope, whereas previous attempts to make a carbon spoke were made with pre-purchased sheets of woven carbon fiber fabric that are cut into tiny, spoke-sized pieces.
Watkins said he had been looking for a way to break into the consumer market, and the idea to create bike components came about when KEIR developed technology that could braid carbon composite fibers. It wasn't until Watkins attended a conference in 2016 on composite bicycle components that the idea to use the technology for carbon spokes came about.
Carbon fiber components have been popular over the last few years for bike components due to their strength and lightness, but they also have a reputation for not having impact resistance – an incredibly important aspect for a component to have, especially in rough terrain like Pisgah National Forest. Cyclists have been testing out the technology in Pisgah for a year now, and independently of each other have said the Gulo wheels make for a smoother, more responsive ride, said Watkins. Another plus, he said, is that carbon spokes are lighter than traditional steel spokes, 40 percent lighter per spoke, which makes a difference especially on steep climbs like the kind you'll find around Brevard.
"One of the drawbacks and kind of the difficult things to convince people of about a carbon spoke is that it's impact resistant," Trent said. "That's going to be the number one question people have when they look at any carbon spoke. They're generally sort of dismissive if they've seen the technology before or even if they haven't. They're going to think, 'Man, that looks cool but how will that tiny little thin rod of carbon fiber not just shatter apart?' That's the common thought or idea about how carbon fiber fails…that's what we're up against but that's what we've designed our spokes to handle."
Trent said he's been riding on his Gulo wheels for a year now and he has not been able to break a spoke.
"This is a very rugged area for mountain Biking, and…you're constantly hearing and seeing rocks and sticks and things get up into your wheels, and they pang off of your spokes," he said. "For that reason, these are great. They can withstand a lot of impacts. I've never broken one. Well, actually, it's pretty much impossible to break one under any traditional terms. Everything will break at some point, but basically we run a ton of impact tests on these spokes and…when we compare them to what a traditional steel spoke will take under impact, ours can take way more before they lose tension."
Another aspect of the wheel that Trent and Watkins feel will make it more appealing than other attempts at a similar technology is that the spoke, rim and hub system of the wheel are all custom made to support the technology, and they can be serviced like a traditional wheel system would be at a bike shop. Watkins admits the technology comes with a steep price tag, and the wheel sets start at around $2,300.
However, for enthusiasts looking for a more comfortable ride and racers looking to lighten their bikes without sacrificing durability, the product is unique to the market. Gulo's wheel sets are geared towards three types of cycling – mountain Biking, gravel riding/ cyclocross and road riding.
For road riding, Trent said road racers in particular will love the "Parkway Series" wheels for their rigidity and efficiency.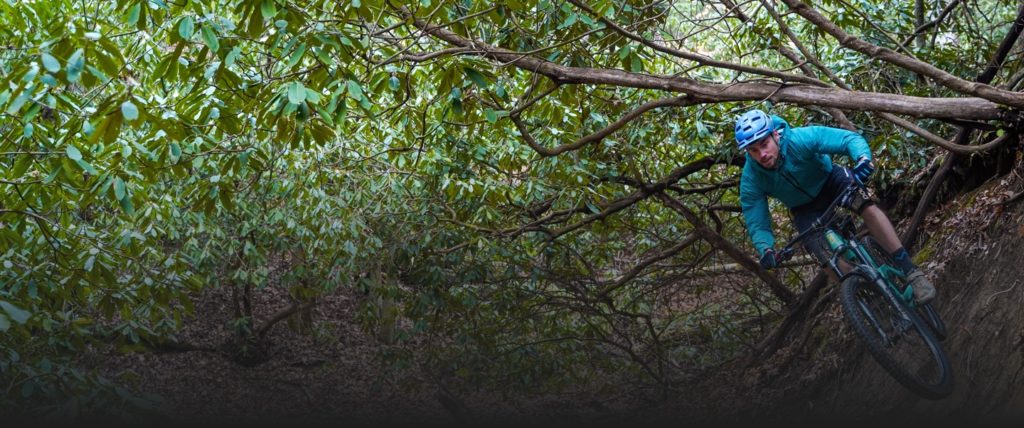 "The bike frames and the wheels and everything on a good high-end road bike, everything is super stiff so that power transfer is immediate and there's no lag, no flex in anything," he said. "Our road wheels are going to be super stiff. It's all about stiffness and efficiency and going really fast for the road."
For gravel and cyclocross riding, Trent said he believes their "Allpave Series" of wheels is one of the lightest wheels on the planet, which makes a big difference in the grueling nature of gravel and cyclocross racing.
And as an avid mountain biker himself, Trent said the mountain bike "PNF Series" wheels will be able to handle the wear and tear of Pisgah's terrain, all while being lighter and stronger than traditional wheels. Watkins said the company filed for six patents last week and are the first to the market with this technology. Additionally, the company has received some press from popular cycling outlets. The wheels are being reviewed on the popular mountain bike website Pink Bike, and the full write-up on them should be coming out soon.

By: Alex Perri, The Transylvania Times, May 4, 2020