Preparing for the 2022 Race Season
I moved to Asheville in May of 2021 from the Ozarks to take a teaching position here in Brevard. It has been a blessing to be in Brevard as a mountain biker. Many famous Pisgah descents are only a short 5-10 minute drive from work, making it easy to get in a quick ride Avery, Bennett, or Black Lap
My preparation for this race season was going strong until we had a massive snowstorm on January 15-16th this year. It was one of the largest on record here in the Brevard area, and nearly two weeks later, we were still having a hard time getting any time on the dirt or even gravel roads. My only training options were to do intervals on the turbo trainer (the bane of my existence) and the weight room to help me prepare for the 2022 season. The snow brought the opportunity to spend some time on the ski slopes. I feel the cornering techniques and the feeling of speed are pretty analogous to the mountain bike and another good training option.
Pisgah has helped me up my game
When I was riding in the Ozarks, we had some hard technical trails designed by Alex Scott and Jagged Axe Trail Designs. Those trails, offered long and sustained technical and challenging descents but were the exception to the rule compared with Pisgah.
Pisgah Forest is chock full of long and difficult descents. Ride Kanuga has some of the steepest legal trails I have ridden anywhere. It is excellent training for those rake and ride stages they like to throw into races. There are also plenty of 500-700 foot descents in Kanuga that are easily repeatable and great for working on specific techniques and setups.
Massive and Diverse Trail System
Western North Carolina has a massive trail system which offers big granite slick rock trails to steep technical descents and even some flow jump trails with 50-foot tables! The biggest thing I have gained from riding out in Pisgah and area trails is being comfortable at high speeds and allowing the bike to work well underneath you. We have several trails where you can open it up and lay off the brakes for a long time! It's hard to pinpoint my favorite trail in Pisgah. If you are looking for one of the more technical loops in Pisgah, I enjoy a good Upper Black Mountain to Buckwheat Knob to Bennett Gap loop. I can take anything that Pisgah has to throw at me and I feel super confident riding my Gulo GME 30s and we can survive anything.
See you on the trail.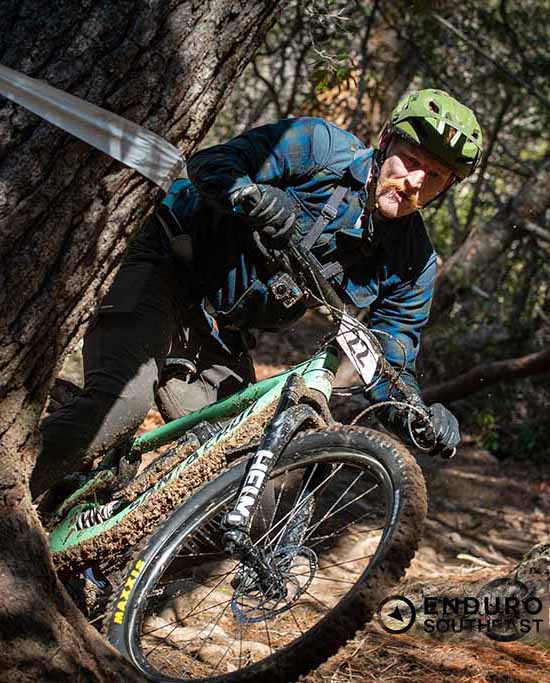 About Grant
Grant lives near Pisgah National Forest in North Carolina, living the dream. With miles of trails, technical ups and downs from chunky rock gardens to super flowy single tracks, how could you not?
Grant races at the Pro level, is very serious about his trail stewardship on local trails and has over 100 hours of trail maintenance volunteer service this year and will continue to give back.