"Hello, my name is Reny Townsend and I'm a long time cycling fiend who longs to ride the hardest and biggest stuff on my days off. BWR Ashville is my #1 race priority of the year.
My goal is to win the 40+ male category even though it probably isn't realistic. In my experience there really isn't a training program that can substitute for racing but here's my alternate methods.
Belgian Waffle Ride (BWR) prep. I try to do one long gravel ride a week, go to my local shop rides to get some intensity, and 1 to 2 hour rides in between. I stay pretty consistent with core exercises using a Bosu and Exercise Ball (this will up your level). I also stretch, do a small amount of yoga and use a foam roller. With all that said, like most of us I juggle life while always wishing I had more time to train so instead I focus on making my training rides quality.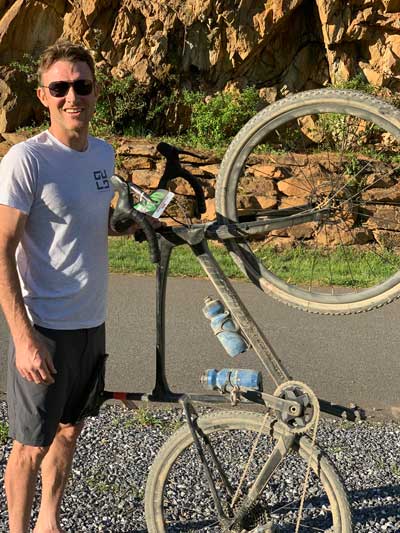 First Gravel Race with 100+ miles and 10k+ Feet Climbing
This will be my first Gravel Race of this length and with this much vert. I've ridden a number of routes that have comparable stats but never in a Gravel race. The first key for me is to NOT try and hang with the pro's. Tactically my goal is to get in the right group early so that I don't ride above my limit and to have enough gas in the tank to finish strong without going on a death march.
The other key to my race goal is nutrition and hydration.
I will most likely carry a camelbak and two water bottles depending on distances between feed stations and where they are located.
I will be taking chewable electrolyte tablets and eating as much solid food as my stomach can handle earlier in the race and then I will switch to gummies and gels in the later stages. I've found it's a tough juggle consuming enough calories without getting an upset stomach on rides over 6 hours, especially at race pace.
This Course will be Tough
I expect this course to be all around very tough and to be physically demanding on every muscle group, not just the legs. Living in the Smoky Mountains for the last couple years I've learned not to underestimate the terrain, there's as much vertical per mile here as anywhere I've ridden. The gravel roads can be rough and chunky, and the mountains are demanding.
My setup
To best handle this terrain I've built up a Giant Revolt with GULO Composite GGX-SL wheels and IRC Double Cross tires. This setup has been super reliable and fast on gravel and rolls well on pavement, but you still have to pedal it!
Looking forward to race day and can't wait for it to be over;)"