Mountain bike trails off the radar
Arkansas and Missouri have an abundance of trails and trail systems that are not on most mountain bikers' radar. Many of these trails run more on the natural and technical side of the spectrum. Only a couple of the trails would be considered a flow trail while the area offers plenty of rocky and gnarly features for putting my Gulo Composites GME-30 wheels. The trails we highlight here probably are not at the front of most people's minds when they think of Northwest Arkansas. The only exception being popular the Bentonville system, which is 30 minutes away from downtown Bentonville.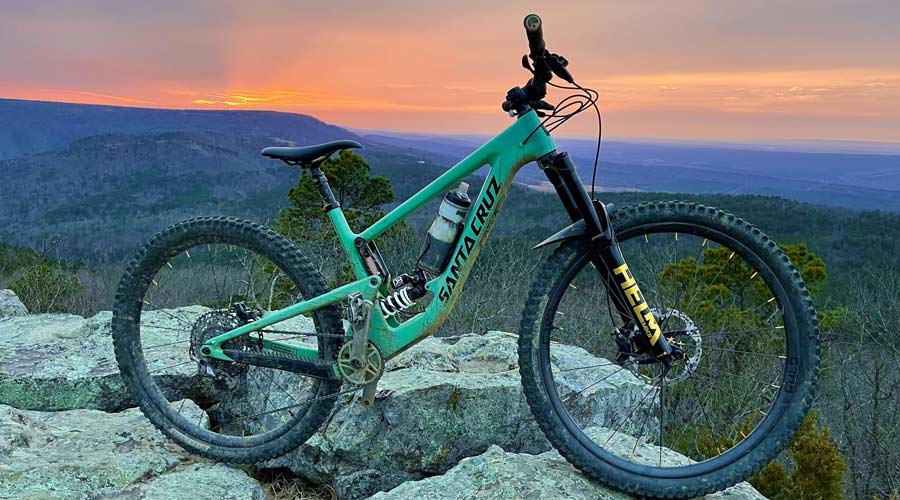 #1: Lake Leatherwood
Location: Eureka Springs, Arkansas
Lake Leatherwood was one of the first places in the state to embrace the downhill-specific trails. Although it is one of the older mountain bike systems in Arkansas, the trails are updated and offer some fantastic options. What remains undiscovered by most riders is the excellent XC trails that are out there. They are full of rowdy, more natural downhills, and the only difference is you have to pedal to the top. A shuttle service is available for seven of the unidirectional downhill-only tracks and Eureka Springs is conveniently located 5 miles away. Eureka Springs is a small town of about 2000 people and has built some amazing trails. With great camping as well as lodging, it has something for everyone in the family. It's also a great place to grab a brew after a hard day's ride.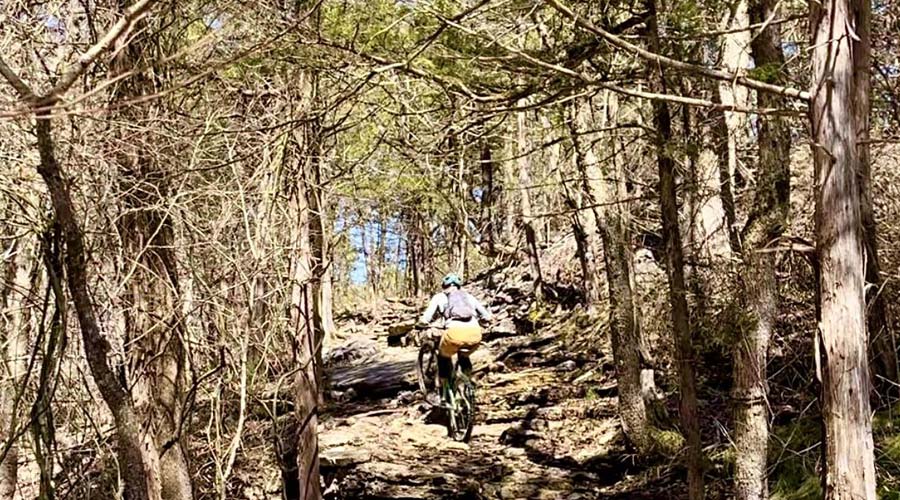 #2: Passion Play
Location: Eureka Springs, Arkansas.
Passion play is one of my favorite trail systems in Arkansas. The trails out there are built by Jaggad Axe, a name you will see popping up several times on this list. They have the reputation of building some of the most incredible natural trails in the US and have the pedigree of creating the trails for two different Big Mountain Enduro venues. Passion play has six downhill only black trails ranging from ultra-steep and rocky to 40-foot jumps. Passion play also has great XC trails for all levels, with everything from a green NICA loop to slow tech traverses.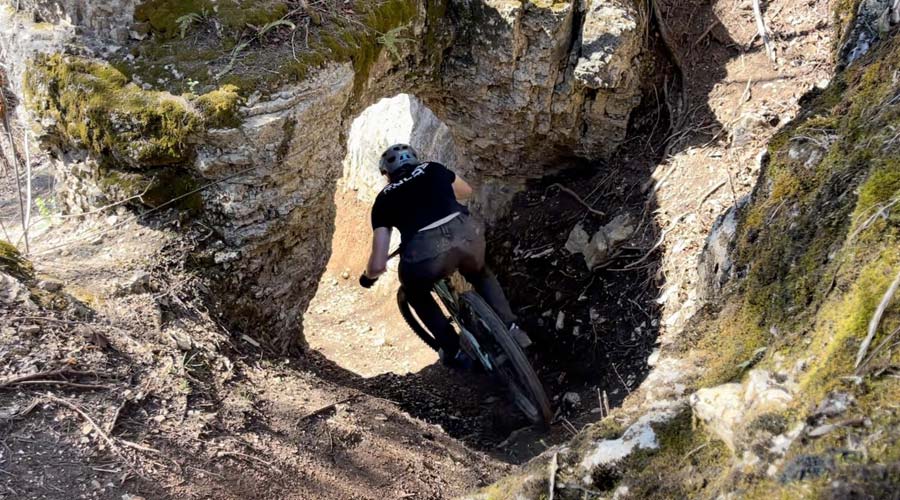 #3: Marble Flats
Location: Eureka Springs, Arkansas
Marble Flats is the third and final trail system in Eureka Springs. It has fewer trails than Leatherwood or Passion Play but can easily loop to Passion Play. This trail system is about 5 miles and serves up some of the fastest and steepest runs around, and has some of the coolest features you can find in Arkansas.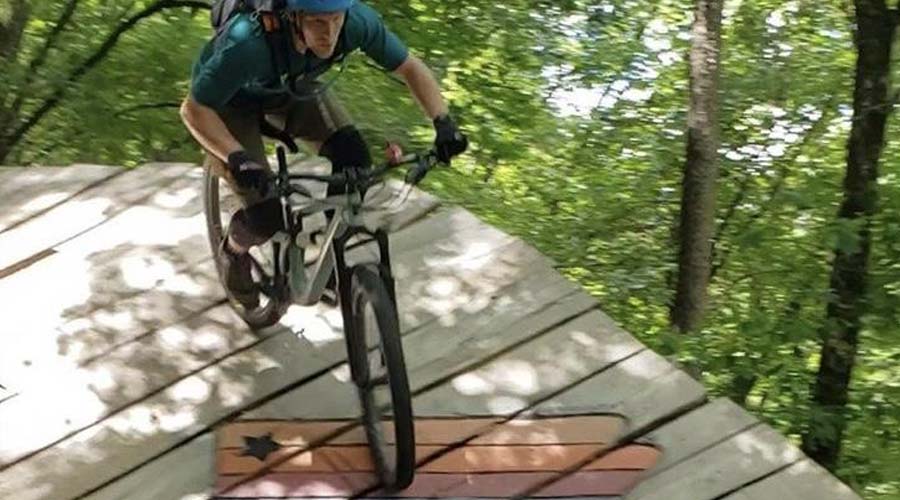 #4: Centennial Park
Location: Fayette, Arkansas
Centennial has a great mix of technical rock features and good flow. In 2021 the park will host the U.S. Pro Cup. This race draws professional cross-country mountain-bike racers from the U.S. and from around the globe. The Pro Cup is part of the U.S. Cup Series that also helps to qualify riders for the Olympics in Tokyo by offering critical UCI points.
Do not let the XC focus deter you if you like rocky and gnarly features. They are great for anyone and are super accessible, and allow you to get the miles in. The south side of the mountain has a handful of downhill trails offering jumps, drops, and rock chutes that will challenge anyone. There is an excellent mixture of tech and flow to be found in these downhill trails.
#5: Buffalo Outdoor Center
Location: Ponca, Arkansas
Locals call it "Ponca" and the trails here have some of the largest downhills in Arkansas. There are 1300 feet of elevation top to bottom, with the largest single descent being about 760 feet. You start with a few fun options up top, including two large and steep rock rolls with approximately 300 feet of elevation to a traverse that leads to your three options of big descents. There is a small climb you have to do to get back to the shuttle, but it is more than worth it with those three big options:
A flowy blue trail in Buffalo River run
A flowy black trail with several rocky features and drops in Mule Kicker
A steep techy trail with a couple of big drops in Skull Cracker.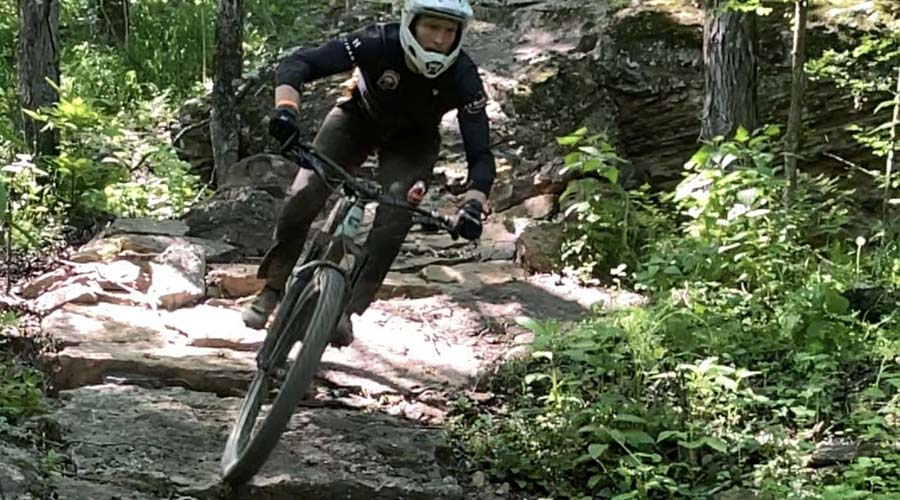 #6: Upper Buffalo Head Waters
Location: Red Star, Arkansas
Continuing south, we hit the most remote trail system on this list. The locals created Upper Buffalo Head Waters to link together the best features in the area. This project is an IMBA epic! It is epic in every sense of the word, with large climbs and big descents without many machines touching dirt to create these trails. A typical ride on this trail system is 20 plus miles, and you will want a full suspension bike for the descents out there. One of my favorite parts of the ride is hitting the swimming hole halfway through.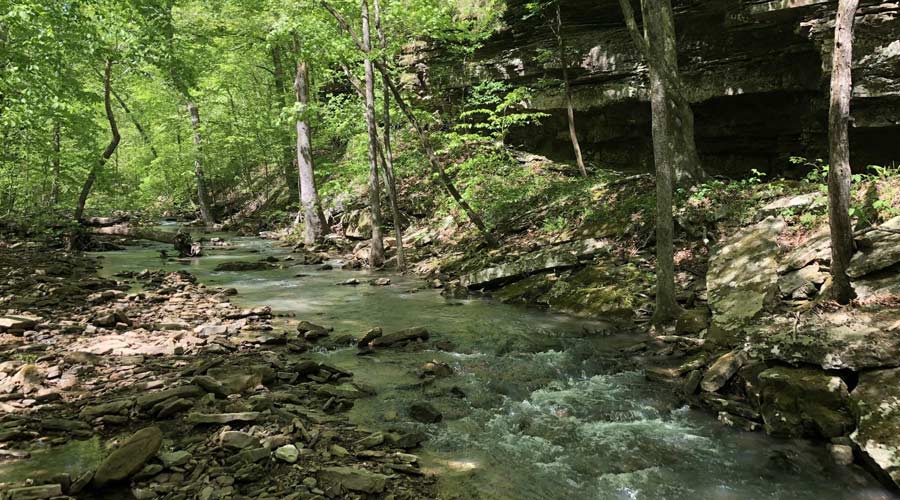 #7: Mount Nebo State Park
Location: Dardanelle, Arkansas
Mount Nebo and Passion Play are both in hot contention for my favorite system. Nebo has fun downhill flow trails and offers more advanced features that you can shuttle to some fantastic technical traversing.
My favorite trail out there is a technical traverse called Lizard Tail. This trail is reminiscent of Sedona, AZ, where it is a technical traverse with some exposure and big rocks on the inside that you have to navigate. I recommend riding this trail after it has rained. There is a wet-weather waterfall that you can ride behind when the water is flowing.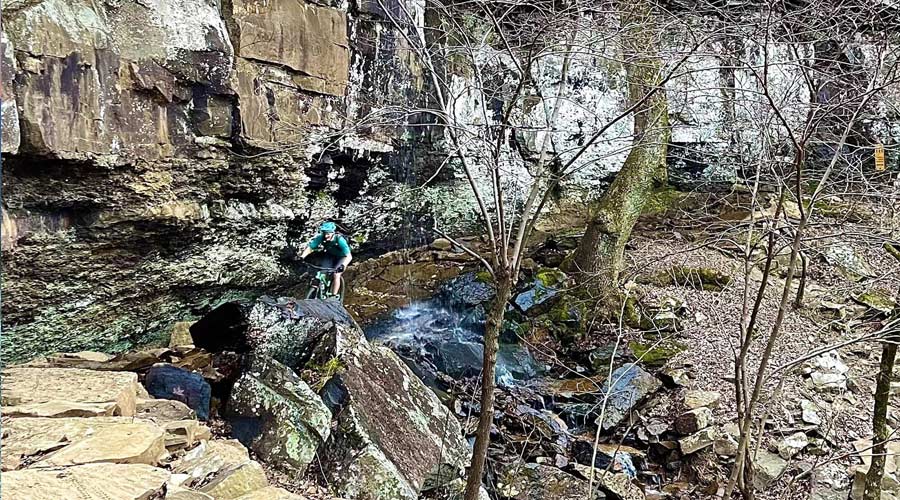 #8: Pinnacle Mountain
Location: Little Rock, Arkansas
Pinnacle Mountain is continuing to be radically improved by Jagged Axe. As usual, they have created a place where natural rock features reign supreme and you will find some of the steepest trails around. There is a little less trail out here than other spots but it packs a heavy punch. I will be very excited to get back to this trail in the future to see how the trail expansion develops.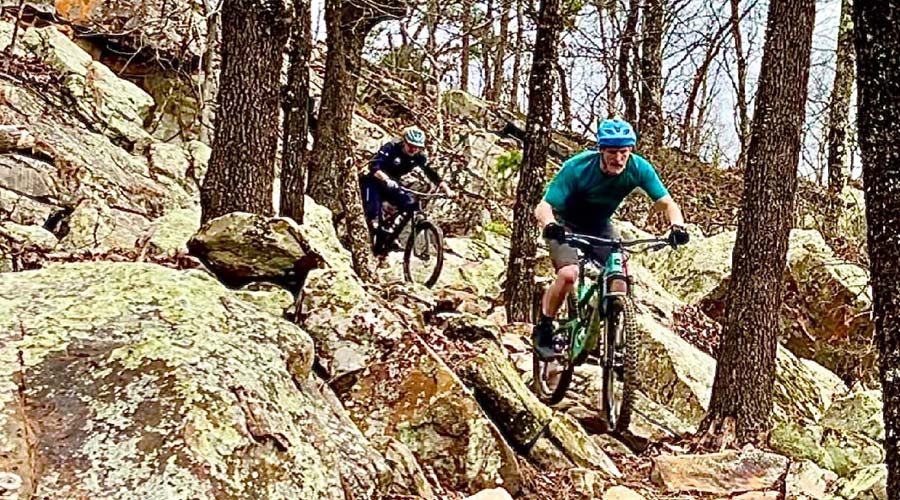 #9: Northwoods
Location: Hot Springs, Arkansas
Northwoods probably has the most significant emphasis on flow trails of anything on this list. There are a couple of tight hand-cut trails that really will challenge your narrow trail riding ability, but most of the trails are flowy and jumpy. There are also some XC trails thrown in. The trail's big feature is a large 25-foot gap at the bottom of Lucky 13, on the black flow trail. It is a fantastical place to ride with its scenic views and since it's right at the edge of Hot Springs National Park, it's also a great family destination.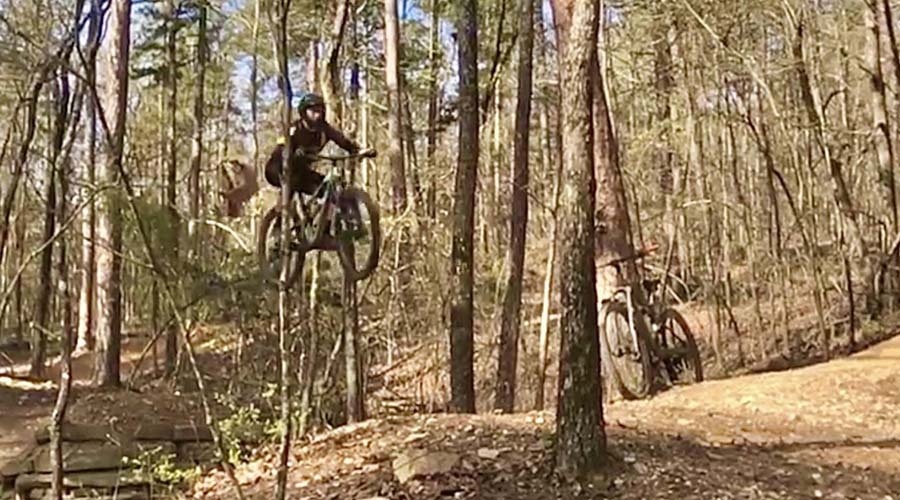 #10: Shepherd Mountain Bike Park
Location: Ironton, Missouri
Last and not least is Shepherd Mountain. This rounds out the list of Jagged Axe-created masterpieces. The rock here is totally different from anything else on this list. This is comparable to Windrock; although it is a miniature version with 600 plus feet of descending. The rocks are nonstop. Some features here are absolutely amongst the craziest things I have seen on a trail. From the giant 20-foot tall wooden corkscrew to the seemingly vertical 15/20 foot squirrel catcher, this system is like nothing else between the Appalachians and the Rockies. There are few trail systems as relentless as Shepherd Mountain. Don't believe it? There was a Big Mountain Enduro out there in May of 2021. Still don't believe it? Get out there and check it out yourself.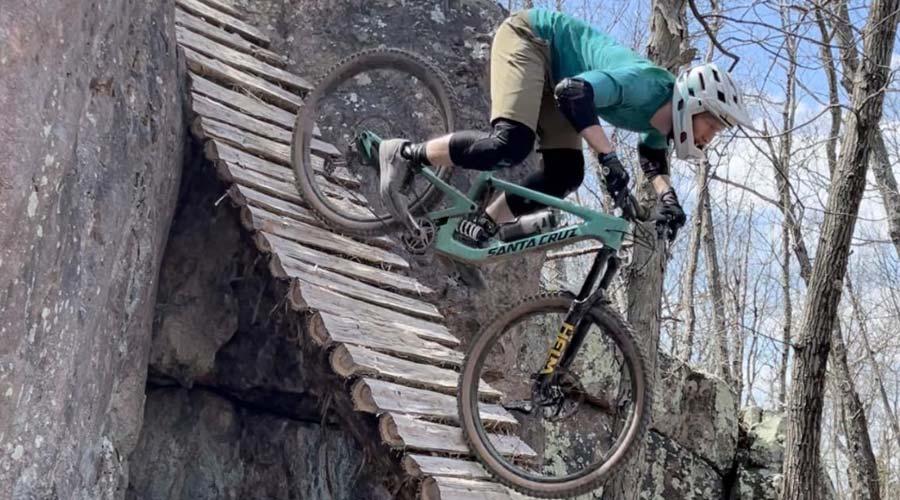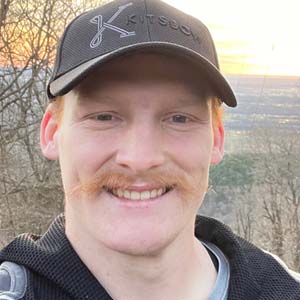 Grant Godfrey
Grant is passionate about mountain biking and races at the professional level, with many wins and podiums under his belt. As much as he loves getting out on the trails, he also gives a lot back to the sport. He is a trail steward for his local trails and logs over 100 plus hours of trail maintenance volunteer service every year.
"I do my best to be a good ambassador for the sport, whether doing work on the trails or helping riders who are new to the sport. I am highly involved in our local mountain bike organization MORC. I am motivated to continue to improve my riding."